"Will it fit", Renate asked?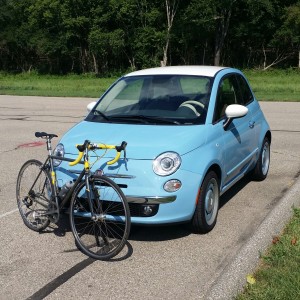 The boot of the Fiat 500 is quite small and is perfect size for lunch, a raincoat and a briefcase or a small grocery run. That is about it.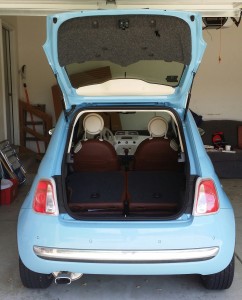 "No Problem", I replied.
In the early eighties I drove an acid yellow '72 super beetle that I loved dearly. I could be seen pulling my '83 Ciocc Mockba 80 out of the backseat in preparation for the weekly club time trial.  When I returned to cycling in 2009, I was transporting that same Ciocc and later my Mooney in the boot of my 2008 Audi TT. I know how to fit a bike into tight places.
To my delight, I was able to fit the Mooney into the Fiat with the rear wheel intact. No hitch to be installed, No rack required. Perfect.
Yesterday is the first day on the bike in 2016. The routine was a bit rust
y, finding this, collecting that, was a clumsy exercise in preparation. I took the bike trail from Galbraith Rd to the golf course. The ride is a false flat descending to Newton, Ohio. The wind on my face welcomed me to the ride, my legs quickly found their cadence and the bike performed flawlessly. The green canopy was a most appreciated barrier to the sun and the gradient was perfect for the first ride of the season.
I concentrated on cadence and form rather than power and pace. It was easy to find the gap in the stroke as the absence of feeling the power transfer from foot to pedal indicates the kinetic chain is broken. The back, when rounded, puts unnecessary stress on the disks. Extending the back slightly, and then arching the head and neck by imagining that a string is connected to the forehead and is pulling the head forward, provides a more relaxed and comfortable riding position. This also improves power transfer by providing a strong, solid platform for the hips to leverage the strength of the legs against. Scrunching the shoulders causes tension and expends unnecessary energy. Relaxing the shoulders and pulling them down away from the ears provides a relaxed form. The hands should be resting on the handlebars or hoods with elbows bent, prepared to absorb the shock from the road. Change hand positions often. Finally, keeping the cadence high minimizes the stress on the joints as the body becomes accustomed to work again. Addressing these failures in form early in base training guard's against injury and accelerates improvement. It is a lot to focus on at once and honestly I cannot. I cycle through them like a recurring checklist.
After the ride, I made haste to satisfy my thirst and hunger. It has been a long time since I was able to down a burger, soda and fries without the subsequent lead belly and regret that follows. As Peter Mooney reminds, "Ride to eat, Eat to ride"
Ride On