The Polar Vortex has made its second coming and is wrapping the country in a freezing blanket of sub zero temperatures and snow. Miami finds itself somewhere in the fifties causing some of our vibrant colors to finally fade to green. Riding this time of year is quite pleasant as groups seem to calm down a bit working together to get through the miles void of the sprints that cause inflammation in the bronchial tubes when performed in temps below sixty degrees.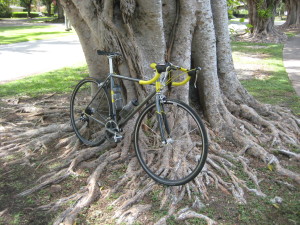 I do miss the colors of autumn in the Northeast. The smell of leaf decay and the glow of sunlight filtered through the leaves of deciduous trees in an array of vivid and muted colors combined with the sound of the wind through the trees calms the mind and fills the senses. Miami however delivers a display of colors during autumn from flowering trees and shrubs that border on the sublime.
Get on a bike and ride!