116 Miles
187 Kilometers
After tossing and turning all night I pull myself out of bed before the alarm could wake Renate. She remained sleeping as I prepared coffee and headed out on the veranda to check the winter weather. In the darkness a dedicated few were awake pursuing their daily habits of walking the dog, running or strolling in the park below.  I can count no more than four.
It is the morning of Christmas Eve. There is no reason to rise from your bed so early. It is a day to relax, share time and stories with friends and family. A day for foie gras, oysters, lobsters and wine carefully paired with each. Not so for we, the noble few, these crazy gentleman riders.
The weather is perfect. I cannot help but notice that there is absolutely no wind. Not a rustle of the palm or shutter of a leaf, Nothing….
Nada.
Excited at the prospect of a windless ride I wondered how far I could go. Last night I took care to prepare my bike, clothes and nutrition and so without the pressure of time I enjoy the coffee and stare into the east as the sun prepares to make its appearance.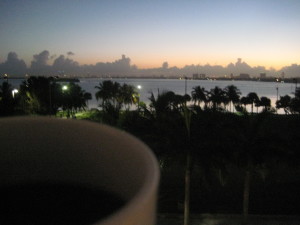 A lone airplane passes overhead making its descent to MIA.
It's time to Kit up, Pump up and Go!
I begin my ride as I almost always do by riding through Overtown. Most cyclists will circumvent this impoverished community for fear of their safety. I ride through it as a reminder of the truth. There is poverty, homelessness  hopelessness and starvation in America.It is closer to us than we are willing to admit. The homeless rise from their temporary shelters and seek to find new refuge for the day.
 As I ride over the channel the sun makes its appearance. It is so bright it mutes the color of the surrounding buildings and even the sky.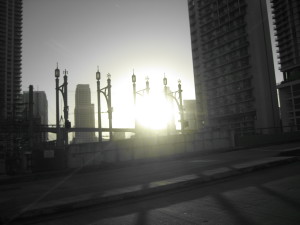 Obstacles to progress comes in many forms.
A wayward bicyclist travelling in the wrong lane.
Never bridge a city bus on the right; it will only bring you grief. The graphics on its rear panel seems to mock me as I wait for it to slowly lurch forward.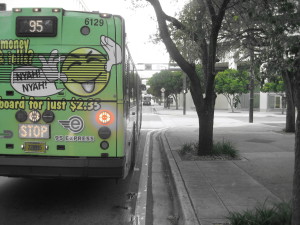 And the ever present garbage can in the bike lane.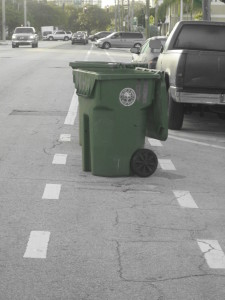 Through coconut grove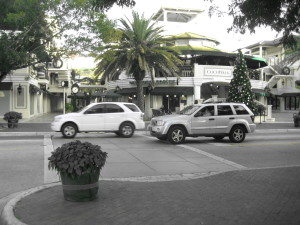 Past Plymouth church and on to Starbucks for a cup of coffee and a rice cake.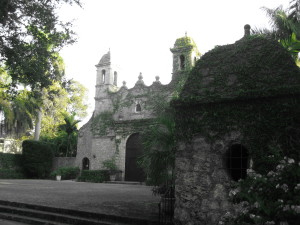 The weekly group ride would never stop this soon but today I have many miles to lay down and I am doing it solo. Here I begin to imagine the possibility of riding to Key Largo. It is a torture on a windy day as it is a long road exposed to the wind off the water. You just don't ride it solo.
But today, today is a windless day.
I ride past Black Point and through the palm tree nurseries careful to check out the channels. The water is clear blue green with not a ripple on the surface, no evidence of wind. In fact you can see the details of the seaweed, the fish swimming effortlessly, the sandy bottom.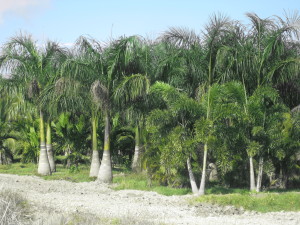 I must take advantage of this day.
After a quick break in Florida City I mount the Mooney and head further south. When you ride Card Sound Road it appears you are on a false flat. You look towards the horizon and perspective fools you into thinking, seeing a slight incline. It is in fact flat. Seawater on either side, there is no mistake; you are riding at sea level. The flattest. The only challenge is fitness, friction, relative wind and will.
Did I say it is a long road? Yeah, the view doesn't change, the grade, the effort… all the same. Eventually the toll booth comes into view and I know I will be rewarded soon.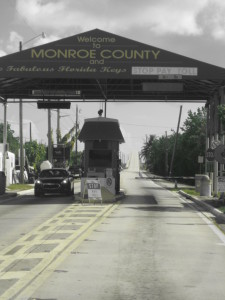 Card Sound Bridge is not an easy climb but it is short.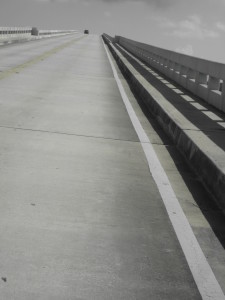 Spectacular views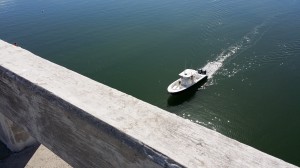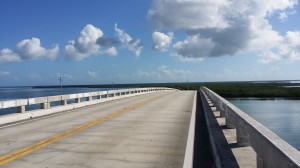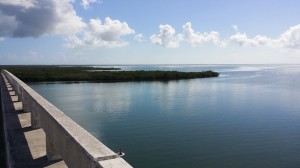 I arrive at Circle K in Key Largo. After 69 miles, I can feel it in my legs. A couple of peppermint chocolates lighten my mood and make me think of Renate. I post a picture on FB and text her, "at Key Largo, likely 5 more hours to home".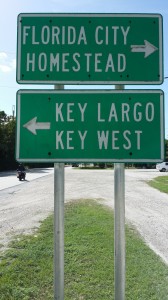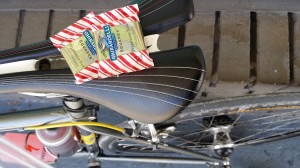 I start to dream of the possibility of completing 135 miles for the first time and on the first day of the Festive. Card Sound road had other plans. A small headwind kicked up as the weatherman predicted and Card Sound Road is pointing directly into it.
I get to the Florida peninsula in one piece, but my pace has fallen off. There is only forty more miles to home and only twenty to Starbucks. Once again I travel back through the palm nursery where the man with the hammer strikes his fateful blow. I am bonking, like an engine with no compression my legs just can't do the work. I stop at Black Point and give home a ring. We agree to meet at Starbucks. It takes almost forty minutes to ride 5 miles.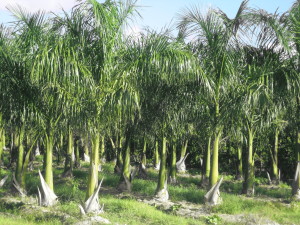 These legs are cooked.
Sitting at Sarbucks waiting for calvary I still can't help to think…
I can still make it.
#festive500