88.7 miles
143 Kilometers
Today I woke an hour later than yesterday and I am sure tomorrow will be later still a pattern that repeats itself each year of the Festive 500. I am sore from yesterday's ride and so I move around the condo slowly.  I sit down with my coffee and listen while the wind outside roars so loud it sounds like heavy rain. I slowly peel back the vertical blinds to reveal the trees bent over and their palms pointed straight south west like invisible strings are pulling at their tips. Yesterday's strategy to collect as many miles as possible has now proven sound as wind like this can weigh heavy on a riders mind, body and spirit.
The legs are heavy and my mind is already focused on the return trip. A strong tailwind makes light work but I am cautious and so keep the pace easy. I must reserve my energy for the return. It wasn't long into the ride I when my arse begins telling the story of yesterday's ride. I shift down into a higher gear and raise myself from the saddle to provide relief. The sharp pain shoots up as the material separates from the skin conveying the presence of raw skin; a product of too many miles, too soon. I was not prepared for yesterdays 116 mile ride.  My 2013 training has been riddled with fits and starts separated by illness and injury. I am not even prepared for today.
I take my rest and grab a coffee. My mood is somber and I stew on the miles ahead. I sit down next to St Nicholas out for a relaxing ride on his Harley after completing his whirlwind journey across the globe bring cheer to deserving  girls and boys. I ask him for a new set of wheels and he tells me I must wait until next year.
I smile and follow a family riding shiny new bicycles in single file formation from Dad to the tiniest tot in order from tall to small. I could not help from interjecting myself into their moment and asked, "Did everyone get a new bicycle for Christmas"? They all replied with a resounding "YEESSS" and flashed big smiles. They were kind enough to pose for me and politely repeated "Merry Christmas" with enthusiasm as the shutter clicked.
As I prepared to mount and continue my ride I asked a weary cyclist, "Are you heading south?" "No", he replied as he stared into the distance. "Going north", he finished after a long pause. He had that far away look in his eye. "How is the headwind?" I ask. To which he slowly shakes his head, looks down and says, "I just gear down and spin until I run out of road."
Sage advice.
So I continue my ride through the palm trees, past Roberts and into the Homestead "Killing Fields".
Here the farmland although picturesque with its patterns of deeply furrowed bare earth and long green lines of vegetation provides no obstruction to the wind. Here the wind consumes you like some invisible beast, surrounding and forcing you to submit to its overwhelming and relentless power. You cannot simply power against it. It will ruin you if you do. Instead, like a long climb, you gear down, find that steady pace and ride it out.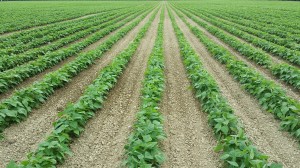 I come out of the fields towards Robert's and see the American flag completely unfurled in my direction. Inspiration to a patriot, yes but to a cyclist, it foretells of a long wearisome ride home.
It's Christmas day and Robert's is packed. Families from neighboring towns and tourists escaping the Northern winter climes enjoy the fresh fruit, smoothies, vintage trucks and jovial mood. The usual hoards of cyclists are absent. I am alone in a crowd.
I drink coconut water for its heralded hydrating power but I abhor its flavor. There is no other way to describe it. It tastes like ass.
The return trip home bears no pleasure. My feet hurt, the left foot metatarsal is particularly painfull and I must concentrate on pulling up to provide relief. My triceps are tired and ache from bearing my weight as my abs and back have wearied from the task. The perennial region screams at me and I am forced to ride out of the saddle every 100 yards to reduce its effect on my mind.  I am not complaining mind you. This is not the first time nor will it be the last that I subject myself to this sort of self inflicted torture.
I am a cyclist.
My legs still strong turn the crank until I run out of road and I am home.
 #festive500