Work shuttles me once a month north to Ohio. When motivation is high, I bring the Mooney. On this trip I planned to spend a week in Cincinnati in servitude and then another week in Mystic, CT visiting folks. The prospect of two weeks off the bike inspired the necessary motivation to pack the bike and kit along with my business attire, drag the bike around, rent large vehicles, pay the baggage fees, and subject frame and wheel to airport portage abuse.
 I arrived at the Cincinnati airport on Sunday morning with full intentions on riding three to four hours in the seven hills. By the time I made it to the hotel two hours later, a massive headache had me face done in a pillow while my bike remained safe and secure in its travel case. The ride would have to wait. "Best laid plans…" The next day a colleague informed me that there was a group ride starting about seven miles from the hotel. Things were looking up.
I arrived at Biowheels just in time to purchase some CO2 cartridges, borrow a track pump from the shop, top off the wheels, shake some hands and leave with the "A" group. The ladies and gentleman of this shop ride took off up the first hill climb like the "A" group hill climbers I am not. I was sucking some serious wind trying to hold their wheels for the next several miles while my bronchial tubes wheezed like a grampus reminding me that I was not prepared for hammering climbs. My colleague Matthew being a gentleman, rolled back to ride with me for the entire ride. I gave him an opportunity to leave me to my own devices but he refused and so I welcomed his company.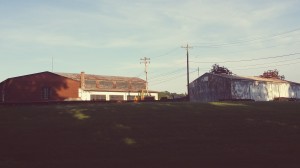 It was a pleasant yet difficult ride, plenty of small steep hills and long steady climbs to help me prepare for Dahlonega, GA. We rode on roads reminiscent of my home town of North Stonington; stone embedded tarmac lined with stone walls and deciduous trees. Homes of affluence, farmland and forest filled the view. Hot summer air singed my lungs and warmed my quads as we meandered the seven hills of north of Cincinnati. I returned to my hotel room feeling great and anxious for the riding in store for the coming days.